Fever Dreams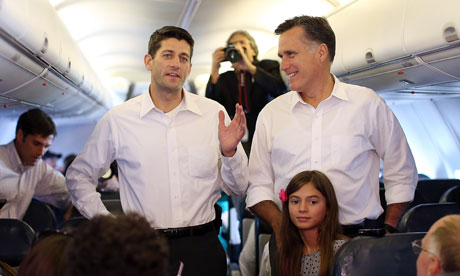 Well, then.
Vice President Paul Ryan.  Just let that one roll off your tongue, and suddenly you realize something even more deeply dysfunctional than previously expected has happened to America.  Although the Village press, with David Gregory the most nauseating among them but hardly unique, has fallen into a collective swoon for the "young," "bold," and "wonky" Wisconsin right-winger, the whole spectacle is pretty embarrassing.   Left unmentioned, but nonetheless hanging in the air like a ripe fart is the fact that the guy looks like he's playing Dracula in a more than usually shoddy high school theatrical production, and his "ideas," such as they are, are so politically toxic that many in his own party previously scurried away from them like cockroaches when the lights come on.
This is the bitter fruit of the right-wing echo chamber's astonishing success at creating an alternate reality wherein stealing from Grandma to further enrich parasitic billionaires is a good thing, and what "the American people," really want is to have their ailing, impoverished parents move in with them so David Koch can buy his current trophy wife her 87th sable coat in hopes of getting a blow job.  After repeating such errant nonsense ad nauseam for decades, Republicans aren't even bothering to lie anymore; they think they've sold this plutocracy idea on its merits.
Call me crazy, but I think this might be a bit of a miscalculation.  Better yet, though, such a boneheaded pants-dropping on the part of the Republicans may accomplish what tossing them out on their asses in 2006 and 2008 couldn't: making Obama and the Democrats actually stand up for the programs they've been just as eager as Republicans to gut.   By choosing Ryan, Romney has forced Obama to campaign from the left, and it's about time.  Despite the stunning (though rapidly receding) successes of the New Deal and the Great Society in creating the world's only broadly prosperous middle class, Democrats have spent the years since apologizing for it all, much to the chagrin of those tossed under the bus.
Meanwhile, a fairly alarming plurality of Americans have been robbed of their retirement, stripped of their decent-paying jobs, and watched as their children's future ebbed away in a tide that quite noticeably hasn't lifted all boats.  Republicans have every incentive and opportunity to obscure this glaringly obvious fact; Democrats now can only do so at their peril, as we've seen.
By choosing Ryan, Republicans have finally laid all their marked cards on the table, which is to me all but inexplicable, except that as a group, they must watch way too much Fox News, and wind up believing it.  Someday we may look back and give Paul Ryan credit for "saving" our vestigial social safety net; he is about to drag President Obama, kicking and screaming, into what Howard Dean called the Democratic wing of the Democratic party.
And not a moment too soon.